---
Cumshot VR refers to any VR experience that includes an ejaculation. In the case of Cuckhold Sex at the Mixed Bathing Experience," you get to cream inside the beautiful Touka Rinne multiple times. Not only do you get to fill her elegant vagina with semen, but you also get to release a huge blast into her mouth. I hope that's OK.
What's in between the cumshot VR scenes?
I would say that the theme of this video is wild sex. The production starts out with beautiful Touka seducing you, giving you a handjob after she notices her husband is asleep. At first, things are quiet. However, things quickly heat up as she gets turned on and starts to give into the temptation for pleasure.
This particular video has lots of sex scenes: you get a hand job, a blow job (where you cum inside her mouth), some doggy style, missionary sex, etc, with some nice creampies.
Of course, there is also a fantastic pee scene in this video. While you lay on your back, she stands over you releasing a shy stream of piss all over your body. Fortunately, you're at the hot spring so you don't mind getting a little wet.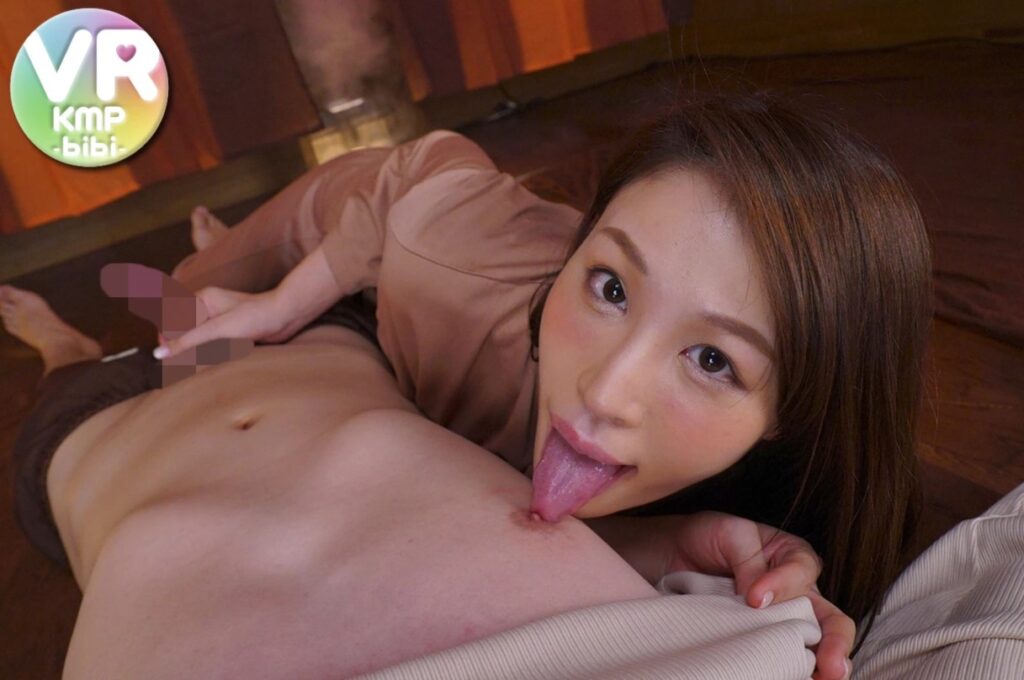 ---
Touka Rinne is cute, playful, and enthusiastic about having sex with you. She is often smiling and giddy as she goes all-in on this once-in-a-lifetime experience. The wonderful thing about cumshot VR, and VR in general, is the feeling you get from making eye contact. Thankfully, Touka Rinne seems to genuinely enjoy this form of wild and crazy pleasure. As a result, she's a great model to make eye contact with in virtual reality. Her smile is infections. Due to that, it's impossible to resist the urge to smile back. This is especially true when you are simulating the experience of slamming yourself inside her.
---
You'll have fun flirty with Touka Rinne as she occasionally gets playful. Don't forget – she's being naughty and cheating on her sleeping husband!
---
Conclusion
Cuckhold Sex at the Mixed Bathing Experience is a satisfying video to watch if you're looking to sit back and enjoy a detailed, focused, and well-paced sex video with a beautiful model. When it comes to porn, it's easy to feel tempted to skip around and try out different videos, but this video is different. When it comes to this video, it's easy to just sit back, get comfortable, and enjoy the experience from start to finish.
Cumshot VR is pretty awesome for these longer films, since you can pace yourself and time your orgasm for the very end. After cumming in real life, it's fun to just lay back and watch the virtual model laugh and giggle as the cum drips out of her.
This video requires a VR headset. For tips on starting out, check out my guide for setting up the Oculus Quest 2 for VR porn here.

At the time of this writing, this video is available on SLR Premium. SLR Premium is worth it. If you're curious to learn more about SexLikeReal, check out my review of SLR Premium here.