---
Goddess VR allows you to worship a goddess in virtual reality. Today we have a new and exciting video from SodCreate who have proven their expertise in this area. In Reverse Confinement VR – My Mistress is the Wife Next Door, you to worship the world's most beautiful goddess.
The goddess to which I refer is the famed Iori Kogawa, famous for her ability to portray a strong, powerful, and confident woman who loves being in charge. In this video, you get to get tied up, worship her perfect body from a low angle (aka the floor), and have her use and torture your body for her own pleasure.
The video starts with Iori saying goodbye to her husband before he leaves on a business trip. She then sees you and invites you inside for some cake. However, you quickly find yourself in bondage. If this sounds exciting to you, I recommend that you stop reading now, and instead just watch the video! Adding an element of surprise really adds to the feeling of totally submitting to her unpredictable desires.
Still want to know more details about the VR goddess worship scenes?
Let's start with the official description:
And just where do you think you're going? Iori Kogawa is the sexy and horny cheating wife next door, but more than that, she's your Mistress and SHE holds the keys to your pleasure. She brings you over whenever she wants just to enjoy your hard cock, keeping you on a short leash and not letting you leave until she's fully satisfied. Who cares if her husband will be home soon, she's got an orgasm to reach and you're not going anywhere!
The description is accurate, but it skims over some of the sexy details around how specifically she toys with you.
After having tea and finding yourself tied up, she first starts teasing you, pulling you around her leash. She then begins enjoying your body – but just for her own pleasure, not for yours. She plays with you and enjoys getting you hard, but it's going to be a long time before you have any sense of release.
Goddes VR with A Toilet Scene
This video features a secret pee/toilet scene where you kneel in front of goddess Iori while she sits on the toilet (I say it's secret because it's not tagged or timestamped). After beautifully relaxing her firm butt cheeks and thighs on the toilet seat, she let's out a feminine sigh, casually looking away. During this moment, she releases her bladder, granting you the intimate privilege of watching her pee. She leans back and smiles as you hear the sound of her urine being released and splashing below her.
Unfortunately I can't take a screenshot of the scene since it's a VR video, but what I can tell is that during this scene, I kneeled on the floor and felt like I was in the presence of a queen, imagining that she allowed me to place my hands upon her warm, firm thighs.
After using the restroom, she doesn't wipe. Instead, she smothers your face with her hairy bush, forcing you to clean her up while giving her a little pleasure in the process. After that, the two of you head to the shower for more sadistic and kinky fun.
Of course, things end with her deciding to have sex with you in a variety of different positions, including missionary and doggy style.
Eventually, she rides you furiously, claiming your orgasm and filling her insides with your semen. The hour+ of foreplay has caused the ejaculation to be thick and creamy. When she dismounts and relaxes her convulsing sexual organs, the semen drips out of her and onto your body.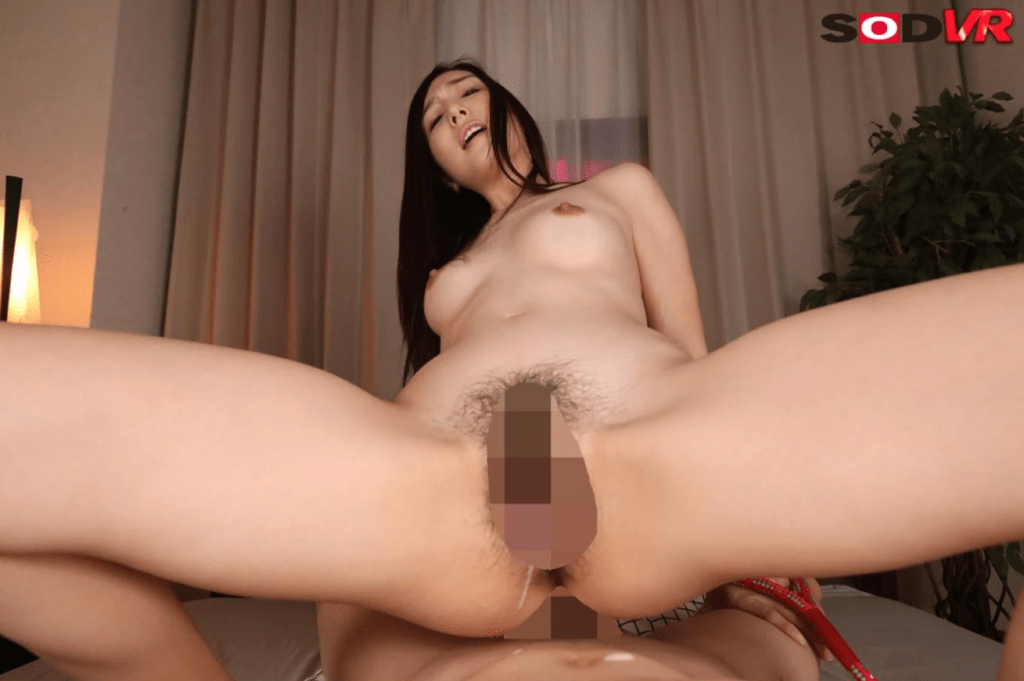 ---
---
Conclusion
This is such a great video. Another five-star production from SodCreate. This video should be on the top of your list if you like confident, athletic women taking charge. Also, there's a toilet pee scene, something that is still unfortunately rare on sexlikereal.com. My hope is that by promoting this video, it will get more traffic, and producers will include more pee and toilet scenes in their offerings.
This video requires a VR headset. For tips on starting out, check out my guide for setting up the Oculus Quest 2 for VR porn here.

At the time of this writing, this video is available on SLR Premium. SLR Premium is worth it. If you're curious to learn more about SexLikeReal, check out my review of SLR Premium here.